GEOGRAPHY
1. WHAT ARE GEOMAGNETIC STORMS?
TAGS: PRELIMS- GS-I-GEOGRAPHY
 THE CONTEXT:  Recently, a Geomagnetic Storm was caused by a solar wind that passed through a gap created in the Earth's magnetic field.
THE EXPLANATIONS:
About Geomagnetic Storms:
A geomagnetic storm is a major disturbance of Earth's magnetosphere.
These storms result from variations in the solar wind that produces significant changes in the currents, plasmas, and fields in Earth's magnetosphere.
The solar wind conditions that are effective for creating geomagnetic storms are sustained (for several hours) periods of the high-speed solar wind and a southward-directed solar wind magnetic field (opposite the direction of Earth's field) at the dayside of the magnetosphere.
The largest such storms are associated with solar coronal mass ejections (CMEs), where a billion tons or so of plasma from the sun, with its embedded magnetic field, arrives at Earth.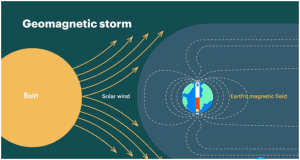 Effects:
These storms can heat the ionosphere, causing beautiful auroras on Earth.
Because the ionosphere is heated and distorted during storms, long-range radio communication that relies on sub-ionospheric reflection gets affected.
Ionospheric expansion due to these storms can increase satellite drag and make their orbits difficult to control.
Satellite electronics can be damaged through the build-up and discharge of static-electric charges.
It can disrupt global navigation systems.
It can create harmful geomagnetic-induced currents (GICs) in the power grid and pipelines.
What is a Solar wind?
It is a stream of energized, charged particles, primarily electrons and protons, flowing outward from the Sun through the solar system at speeds as high as 900 km/s and a temperature of 1 million degrees (Celsius).
It is made of plasma.
When the solar wind reaches Earth, it sends a flurry of charged particles toward the magnetosphere, along Earth's magnetic field lines, towards the poles.
What are Coronal Mass Ejections (CMEs)?
CMEs are large expulsions of plasma and magnetic field from the Sun's corona that propagates outward into interplanetary space.
The blast of a CME carries about a billion tons of material out from the Sun at very high speeds of hundreds of kilometers per second.
INDIAN POLITY
2. DOCTRINE OF NECESSITY
TAGS: PRELIMS- GS-II-POLITY
CONTEXT: Recently, the Competition Commission of India (CCI) Invoked the "doctrine of necessity" to clear six deals involving mergers & acquisitions (M&A) and investment proposals.
THE EXPLANATION:
About Doctrine of necessity:
It allows the legal authorities to carry out certain activities which are not permitted in the normal course.
This term is used to describe a principle of constitutional law, where in an emergency or an exigent circumstance, a state may legally act which in other circumstances is deemed to be illegal.
The term was first used in 1954 in a controversial judgment in Pakistan.
The Doctrine of Necessity was changed to the Doctrine of Absolute Necessity in the case of "Election Commission of India v. Dr. Subramaniam Swamy"
Outcome: This doctrine shall be used only in case of absolute necessity.
It acts as a defense against violating the law making the decision valid and not biased.
Doctrine of necessity acts as an exception to 'Nemo judex in causa sua', where an authority is disqualified on the grounds of a biased decision.
Evolution of the Doctrine of Necessity
The term Doctrine of Necessity is a term used to describe the basis on which administrative actions by administrative authority, which are designed to restore order, are found to be constitutional. The maxim on which the doctrine is based originated in the writings of the medieval jurist Henry de Bracton, and similar justifications for this kind of administrative action have been advanced by more recent legal authorities, including William Blackstone.
In modern times, the term was first used in a controversial 1954 judgment in which Pakistani Chief Justice Muhammad Munir validated the extra-constitutional use of emergency powers by Governor General, Ghulam Mohammad. In his judgment, the Chief Justice cited Bracton's maxim, 'that which is otherwise not lawful is made lawful by necessity', thereby providing the label that would come to be attached to the judgment and the doctrine that it was establishing.
ENVIRONMENT & ECOLOGY
3. INDIAN PANGOLIN
TAGS: PRELIMS- GS-III-ENVIRONMENT
THE CONTEXT: International non-profit organization TRAFFIC recently reported that 1,203 pangolins had been found in illegal wildlife trade in India from 2018 to 2022.
THE EXPLANATION:
About Indian Pangolin: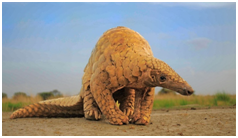 The Indian pangolin, also called thick-tailed pangolin and scaly anteater is native to the Indian subcontinent.
It is one of the eight species of pangolins found.
They are one of the most trafficked mammals in the world, despite an international ban on their trade.
Scientific name: Manis crassicaudata
Distribution: It lives in India (south of the Himalayas), Bangladesh, Southern Nepal, Sri Lanka, and small parts of Pakistan.
Habitat: It occurs in tropical forests, open land, grasslands, and degraded habitat, including in close proximity to villages.
Features:
Like other pangolins, it has large, overlapping scales on its body, which act as armor.
The Indian pangolin's armor is amongst the most effective in the mammalian world. It has about 13 rows of moveable sharp scales covering its body, which are shed periodically.
The colour of its scales varies depending on the colour of the earth in its surroundings.
It can also curl itself into a ball as self-defense against predators.
It is an insectivore feeding on ants and termites.
It is nocturnal and rests in deep burrows during the day.
Conservation status:
IUCN Red List: Endangered
Wildlife (Protection) Act, 1972: Schedule I
CITES: Appendix I
SCIENCE AND TECHNOLOGY
4. FINDER DEVICE
TAGS: PRELIMS- GS-III-DISASTER MANAGEMENT
THE CONTEXT: NASA has developed a technology that can remotely detect the tiniest motions of the body that will be used by disaster relief teams in earthquake-stricken Turkey.
THE EXPLANATION:
About FINDER device:
The devices, called FINDERs( Finding Individuals for Disaster Emergency Response), use microwave radar sensors to find survivors underneath the rubble.
It was designed to detect a human heartbeat buried beneath 30 feet of rubble.
The radar illuminates the rubble pile and receives reflections back from a disaster site, including the victim.
FINDER looks for changes in the reflection that indicate movement and then checks to see if those movements can be attributed to human heartbeats and respirations.
It can distinguish human respiration from animals or mechanical movements.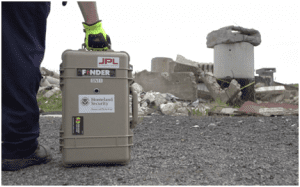 PRELIMS PERSPECTIVE
5. WHAT IS YAKSHAGANA?
TAGS: PRELIMS- GS-I-ART AND CULTURE
THE CONTEXT: The Prime Minister of India has expressed deep grief over the demise of noted Yakshagana playback singer, Shri Balipa Narayana Bhagavatha.
THE EXPLANATION:
About Yakshagana:
Yakshagana is a traditional folk dance form popular in Coastal Karnataka
It is a rare combination of dance, music, song, scholarly dialogues and colourful costumes.
Traditionally, men portray all roles, including the female ones, though women are now part of Yakshagana troupes.
A typical troupe consists of 15 to 20 actors and a Bhagavatha, who is the master of ceremonies and the main storyteller.
What are the elements of Yakshagana?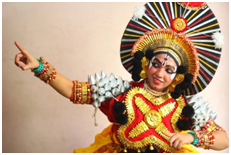 The Act: Each performance typically focuses on a small sub-story (known as 'Prasanga') from ancient Hindu epics of Ramayana or Mahabharata. The show consists of both stage performances by talented artists and commentary (performed by the lead singer or Bhagavatha) accompanied by traditional music.
The Music: Musical instruments used in Yakshagana include Chande (drums), Harmonium, Maddale, Taala (mini metal clappers) and flute among others.
The Dress: Costumes used in Yakshagana are very unique and elaborate. Large size headgear, coloured faces, elaborate costumes all over the body and musical beads on the legs (Gejje).
Spread the Word