INDIAN POLITY AND CONSTITUTION
1. THIS PHRASE MEANS: 'ARC OF THE MORAL UNIVERSE IS LONG, BUT IT BENDS TOWARD JUSTICE'
THE CONTEXT: On 26th November 2022- Constitution Day celebrations at the Supreme Court), Chief Justice of India DY Chandrachud used the famous phrase about "the arc of the moral universe bending towards justice".
THE EXPLANATION:
Talking about the accessibility of the justice system, the CJI said, "The Indian judiciary has been adopting several measures of institutional reform with the single objective — and I borrow the celebrated phrase of American civil rights activist Dr Martin Luther King Junior to describe it — to bend the arc of the moral universe towards justice."
What is the full quote?
Martin Luther King had used the phrase several times in different contexts. One of its recorded uses, according to the US's National Public Radio (NPR), is during the march from Selma in 1965, which had been taken out over the issue of African-American people's right to vote. Asked how long it would take to see social justice, Dr King said, "How long? Not long. Because the arc of the moral universe is long, but it bends toward justice. How long? Not long."
The phrase means that though justice may take long, the universe moves towards it.
However, many have pointed out that the version popular today — "the arc of the moral universe is long, but it bends toward justice" — makes it sound like justice is a foregone conclusion, and will eventually come about on its own because that is how the arc of the universe bends. What is often missed is that the arc won't automatically bend towards justice, but has to be made to bend in that direction through human efforts.
CJI Chandrachud, in his speech, made the need for effort clear when he said the judiciary is "adopting several measures" to attain the objective of bending "the arc of the moral universe towards justice."
Another criticism of the phrase — and one acutely relevant to the Indian context — is that it seems to assume everyone is agreed upon what is "justice". Often, competing interest groups in a diverse population, like in India, can have very different ideas of what is "justice", and critics claim that before trotting the phrase around like a happy platitude, a robust debate is needed to arrive at an informed and fair definition of justice.
ENVIRONMENT, ECOLOGY AND CLIMATE CHANGE
2. GREAT BARRIER REEF IS IN DANGER: UN
THE CONTEXT: Recently, a joint report by the International Union for Conservation of Nature (IUCN) and UNESCO's World Heritage Centre (WHC) expressed concern about the status of the Great Barrier Reef (GBR) in Australia, recommending that it "be inscribed on the List of World Heritage in Danger."
THE EXPLANATION:
According to report, "major threats that could have deleterious effects on its inherent characteristics," the panel of two scientists made 10 priority and 12 additional recommendations to preserve the "Outstanding Universal Value" (OUV) of the coral reef system.
Despite Australia's sustained and scientific efforts to manage the property, currently, the GBR is adversely and significantly impacted by climate change factors, affecting its resilience to sustain and regenerate itself. Frequent bleaching events have made many reefs sterile. Degraded water quality poses a particular threat.
The report says that currently, the management of the property lacks clear climate change goals.
Further, the implementation of existing plans to conserve the GBR has been falling short, specifically in relation to the management of water quality and fishing activities, it says. Inshore land-based activities, often outside the protected area, are particularly responsible for the degraded water quality in GBR. Pollutants from agricultural and construction activities have been damaging and other proposed developments around the Queensland coast are matters of concern.
The foremost is adding the GBR to the List of World Heritage in Danger. Among other things, recommendations also include monitoring and evolving farming practices, greater commitments to reduce greenhouse gas emissions, addressing land erosion on the coast, and adopting sustainable fishing practices.
About Great Barrier Reef: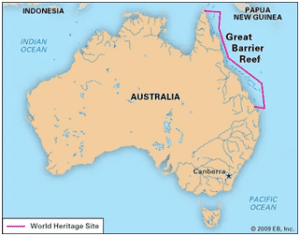 The Great Barrier Reef is the world's largest coral reef system composed of over 2,900 individual reefs and 900 islands.
The reef is located in the Coral Sea (North-East Coast), off the coast of Queensland, Australia.
The Great Barrier Reef can be seen from outer space and is the world's biggest single structure made by living organisms.
The reef structure is composed of and built by billions of tiny organisms, known as coral polyps. It was selected as a World Heritage Site in 1981.
3. KERALA'S MAN-ANIMAL CONFLICT MITIGATION TEAM SELECTED FOR WILDLIFE TRUST OF INDIA AWARD
THE CONTEXT: An eight-member team from Chinnakanal that comes under the Munnar forest division, which has been instrumental in bringing down the incidents of man-animal conflict in the region, has won recognition for its efforts.
THE EXPLANATION:
Why it is significant?
According to the Ministry of Environment, forest, and climate change between 2018-19 and 2020-21, 222 elephants were killed by electrocution across the country, 45 by trains, 29 by poachers and 11 by poisoning. Among tigers, too, 29 were killed by poaching between 2019 and 2021, while 197 tiger deaths are under scrutiny.
THE EXPLANATION:
Among human casualties of conflict with animals, elephants killed 1,579 humans in three years — 585 in 2019-20, 461 in 2020-21, and 533 in 2021-22. Odisha accounted for the highest number of these deaths at 322,followed by Jharkhand at 291 (including 133 in 2021-22 alone), West Bengal at 240, Assam at 229, Chhattisgarh at 183, and Tamil Nadu at 152.
Tigers killed 125 humans in reserves between 2019 and 2021. Maharashtra accounted for nearly half these deaths, at 61. For tiger deaths caused by human activity.
Among the 222 elephant deaths caused by electrocution, Odisha accounted for 41, Tamil Nadu for 34 and Assam for 33. Odisha (12 out of 45) also had the highest number of elephant deaths caused by trains, followed by West Bengal (11) and Assam (9). Poaching deaths were highest in Meghalaya (12 out of 29) while poisoning deaths were highest in Assam (9 out of 11, including 8 in 2018-19 alone).
As a result of concerted efforts made for protection and conservation of wildlife, the population of several wildlife species like Tigers, Elephants, Asiatic Lion, Rhino etc. in the country has increased".
"Assessments of human-wildlife conflicts indicate that the main causes of human wildlife conflict include habitat loss, growth of population of wild animals, changing cropping patterns that attract wild animals to farmlands, movement of wild animals from forests area to human dominated landscapes for food and fodder, movement of human beings to forests for illegal collection of forest produce, habitat degradation due to growth of invasive alien species, etc.
VALUE ADDITION:
About Project REHAB:
Project RE-HAB stands for Reducing Elephant-Human Attacks using Bees. It is an initiative of the Khadi and Village Industries Commission (KVIC).
The project has been launched as a sub-mission of KVIC's National Honey Mission.
It intends to create "bee fences" to thwart elephant attacks in human habitations using honeybees.
Bee boxes have been placed on the ground as well as hung from the trees.
The boxes are connected with a string so that when elephants attempt to pass through, a tug causes the bees to swarm the elephant herds and dissuade them from progressing further.
This idea stems from the elephants' proven fear of the bees.
The project aims to mitigate Human– elephant conflicts in the country.
It was launched as a pilot project launched on the periphery of Nagarhole National Park in Karnataka.
National Honey Mission:
Launched by Khadi and Village Industries Commission(KVIC)
To provide sustainable employment and income to rural and urban unemployed youth.
To conserve the honeybee habitat and tapping untapped natural resources.
Promote beekeeping for increasing crop productivity and pollination services avenue for beekeepers and farmers.
4. PROJECT GIB
THE CONTEXT: Hearing a plea to protect the endangered bird Great Indian Bustard (GIB), the Supreme Court asked if a 'Project GIB', on the lines of 'Project Tiger', could be launched.
THE EXPLANATION:
Why is the Great Indian Bustard endangered?
Among the biggest threats to the GIBs are overhead power transmission lines. Due to their poor frontal vision, the birds can't spot the power lines from a distance, and are too heavy to change course when close. Thus, they collide with the cables and die.
According to the Wildlife Institute of India (WII), in Rajasthan, 18 GIBs die every year after colliding with overhead power lines.
ABOUT GREAT INDIAN BUSTARD:
GIBs are the largest among the four bustard species found in India – the other three being MacQueen's bustard, lesser florican and the Bengal florican. GIBs prefer grasslands as their habitats. It is important to note that Great Indian Bustards are State bird of Rajasthan.
Being terrestrial birds, they spend most of their time on the ground with occasional flights to go from one part of their habitat to the other.
They feed on insects, lizards, grass seeds etc.
GIBs are considered the flagship bird species of grassland and hence barometers of the health of grassland ecosystems.
In February 2020, the Central government told at the 13th Conference of Parties to the United Nations Convention on Migratory Species of Wild Animals (CMS) that the GIB population in India had fallen to just 150.
Maximum numbers of GIBs are found in Jaisalmer and the Indian Army controlled field firing range near Pokhran, Rajasthan.
Other areas where they are found in less than 10 in number are Kutch district in Gujarat, Nagpur and Solapur districts in Maharashtra, Bellary and Koppal districts in Karnataka and Kurnool district and Amravati in Andhra Pradesh.
Pakistan is also believed to host a few GIBs.
The GIB lays one egg every 1-2 years, and the success rate of these eggs is 40-50 % due to predators like foxes and dogs.
Protected areas:
Rajasthan: Desert National Park – Jaisalmer and Balmer
Gujarat: Naliya Sanctuary in Kutch
Madhya Pradesh: Karera Wildlife Sanctuary (The species disappeared from Madhya Pradesh in early 90s')
Maharashtra: Nannaj Grasslands, Solapur
Andhra Pradesh: Rollapadu Wildlife Sanctuary
Recent Development:
India's proposal to include Great Indian Bustard, Asian Elephant and Bengal Florican in Appendix I of UN Convention on migratory species was unanimously accepted during the 13th Conference of the Parties to the Convention on Migratory Species (CMS). This conference was held at Gandhinagar in Feb 2020. The mascot for CMS COP13 was "Gibi – The Great Indian Bustard".
ECONOMIC DEVELOPMENTS
5. REVISION SERIES: CENTRAL BANK DIGITAL CURRENCY (CBDC)
THE CONTEXT: The Reserve Bank of India (RBI) recently began the much-awaited trial run of India's first retail central bank digital currency (CBDC) or 'e-rupee' in four cities—Mumbai, Delhi, Bengaluru, and Bhubaneswar—through eight participating banks.
THE EXPLANATION:
Nine banks — State Bank of India (SBI), Bank of Baroda, Union Bank of India, HDFC Bank, ICICI Bank, Kotak Mahindra Bank, Yes Bank, IDFC First Bank and HSBC — have been identified for participation in the pilot.
What is Digital Rupee?
A Central Bank Digital Currency (CBDC) or Digital Rupee is a digital form of currency notes issued by a central bank. Digital currency or rupee is an electronic form of money, that can be used in contactless transactions.
Presenting Union Budget 2022, Finance Minister announced that the Reserve Bank of India (RBI) would be rolling out its digital currency soon.
CBDC can be classified into two types
1. Retail (CBDC-R): Retail CBDC would be potentially available for use by all
2. Wholesale (CBDC-W) is designed for restricted access to select financial institutions.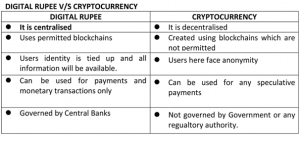 What will the retail digital rupee be?
In effect, the retail e-rupee will be an electronic version of cash, and will be primarily meant for retail transactions. It will be potentially available for use by all — the private sector, non-financial consumers and businesses — and will be able to provide access to safe money for payment and settlement, as it will be the direct liability of the central bank.
According to RBI, "CBDC is the legal tender issued by a central bank in a digital form. It is the same as a fiat currency and is exchangeable one-to-one with the fiat currency. Only its form is different."
And how will the retail digital rupee work?
The e-rupee would be in the form of a digital token that represents legal tender. It will be issued in the same denominations as paper currency and coins, and will be distributed through intermediaries, i.e., banks.
Users will be able to transact with e₹-R through a digital wallet offered by the participating banks and stored on mobile phones and devices, according to the RBI.
Transactions can be both person to person (P2P) and person to merchant (P2M). Payments to merchants can be made using QR codes displayed at merchant locations. "The e₹-R would offer features of physical cash like trust, safety and settlement finality. As in the case of cash, it will not earn any interest and can be converted to other forms of money, like deposits with banks."
THE PRELIMS PERSPECTIVE
6. BAGUETTE MAKES IT TO UNESCO INTANGIBLE CULTURAL HERITAGE LIST
THE CONTEXT: Recently, Baguette — the staple French bread — was inscribed into the UN's list of intangible cultural heritage (ICH).
THE EXPLANATION:
UNESCO, the international body which aims at promoting peace and cooperation among nations through education, arts, sciences and culture, recognized the "Artisanal know-how and culture of baguette bread" as a world cultural heritage.
What is a baguette?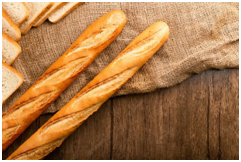 The baguette is a long and thin loaf made of flour, water, salt and yeast, and is consumed as a staple in France. It gained its official name in 1920.
The history of the bread is uncertain, some also believe that Napoleon Bonaparte, the French military leader, ordered thin sticks of bread for consumption by his soldiers as they could be carried from one place to another more conveniently.
Why did France nominate it for the UN list?
In March 2021, France nominated the baguette as its candidate for consideration within the UNESCO ICH list. It drew attention to the steady decline in the number of bakeries in the country as around 20,000 of them have closed down since 1970.
About 10 billion baguettes are consumed every year in France by a population of 67 million, according to the data website Planet scope. One loaf is priced at around 1 Euro. However, people are increasingly becoming inclined towards purchasing products from supermarkets, rather than the traditional way. This method interferes with the quality of the bread, according to an AP report.
French officials were seen raising the loaf in celebration, as soon as the decision to include it within the UNESCO list was pronounced in Morocco.
What is intangible cultural heritage according to UNESCO?
UNESCO defines "intangible" as "expressions that have been passed from one generation to another, have evolved in response to their environments and contribute to giving us a sense of identity and continuity…"
According to an official document by UNESCO, 'intangible cultural heritage' includes "oral traditions, performing arts, social practices, rituals, festive events, knowledge and practices concerning nature and the universe or the knowledge and skills to produce traditional crafts."
Spread the Word