THE ECONOMIC DEVELOPMENTS
1. COMMITTEE FOR PHARMA MARKETING PRACTICES
THE CONTEXT: A high-level committee has been set up to regulate the promotion of pharmaceutical products.
THE EXPLANATION:
The Government has set up a five-member committee chaired by Dr VK Paul, NITI Aayog member (health) to create a legal mechanism to address the issue of pharmaceutical companies giving incentives to promote their drugs and products.
The members of this committee include department of pharmaceuticals S Aparna, Union health secretary Rajesh Bhushan, and Central Board of Direct Taxes (CBDT) chairman Nitin Gupta.
The joint secretary (policy) from the department of pharmaceuticals is the member secretary of this committee.
The committee was set up based on the recommendation of the Union Minister of Health and Family Welfare, Chemicals and Fertilizers, Mansukh Mandaviya.
This committee will examine the Uniform Code of Pharmaceutical Marketing Practices (UCPMP), Indian Medical Council Regulations, 2002 and CBDT rules, which are involved in the regulation of marketing practices of pharma companies.
The UCPMP, which was unveiled in 2015, aims to prevent unethical practices of the pharma companies by regulating their marketing, including sample distribution and gifts. The code also governs hospitality and cash or monetary grants to physicians and their families. It is voluntary and not enforceable.
The Indian Medical Council Regulations, 2002 details misconduct by medical professionals, including accepting gifts from drug companies and commissions from laboratories.
The CBDT rules require pharma companies to file details on how much they spend to promote their products. The Supreme Court had held that gifts to medical practitioners by pharmaceutical companies is not allowable expenditure under the Income Tax Act, 1961.
The Committee will look to harmonize all codes, rules and regulations concerning the malpractices in the pharmaceutical sector. These rules are currently implemented by different entities of the government.
It will also examine the requirement of legally enforceable mechanisms to regulate marketing practices by studying global best practices. The high-level committee will be submitting its report in 90 days.
VALUE ADDITION:
Unethical Practices in Pharma Marketing
Drug firms offer freebies in cash and kind to physicians to incentivise them to prescribe 'their drugs'.
Helping doctors in reputation-building exercises by helping in articles publication, speaking at conferences etc.
Making doctors lead investigators in clinical trials or as committee members for which they are paid heavily.
The global experience also shows that voluntary code does not work.
 2. WHAT BANKING SYSTEM LIQUIDITY GOING INTO 'DEFICIT MODE' MEANS?
THE CONTEXT: For the first time since May 2019, the banking system liquidity situation turned into a deficit mode of Rs 21,873.4 crore on September 20, 2022. By comparison, the liquidity surplus was to the tune of Rs 8 lakh crore in November 2021 as the Reserve Bank of India (RBI) was providing liquidity support to the economy, which was dealing with the after-effects of the Covid pandemic.
THE EXPLANATION:
On September 20, 2021, the liquidity surplus was Rs 6.7 lakh crore. Multiple factors are at play here: an uptick in the bank credit, advance tax payments by corporates, and also incremental deposit growth not keeping pace with credit demand.
What is banking system liquidity?
Liquidity in the banking system refers to readily available cash that banks need to meet short-term business and financial needs. On a given day, if the banking system is a net borrower from the RBI under Liquidity Adjustment Facility (LAF), the system liquidity can be said to be in deficit and if the banking system is a net lender to the RBI, the system liquidity can be said to be in surplus. The LAF refers to the RBI's operations through which it injects or absorbs liquidity into or from the banking system.
What has triggered this deficit?
Economists say that there are various factors over the last few months that have led to the current situation. If an improvement in demand for credit has led to the same, the recent advance tax outflow, which is a quarterly phenomenon, has further aggravated the situation.
Besides, there is the continuous intervention of the RBI to stem the fall in the rupee against the US dollar.
"The deficit in the liquidity situation has been caused by an uptick in the bank credit, advance tax payments by corporates, intervention of the RBI into the forex market, and also incremental deposit growth not keeping pace with credit demand.
According to the latest RBI data, the outstanding bank credit stood at Rs 124.58 lakh crore as on August 26, 2022 and has increased by 4.77% (Rs 5.7 lakh crore) from Rs 118.9 lakh crore as on March 25, 2022. However, deposit growth was just 3.21% (Rs 5.3 lakh crore) at Rs 169.94 lakh crore as on August 26, 2022, from Rs 164.65 lakh crore as on March 25, 2022.
How can a tight liquidity condition impact consumers?
A tight liquidity condition could lead to a rise in the government securities yields and subsequently lead to a rise in interest rates for consumers too. The 10-year government bond yield increased to 7.23% on September 21, 2022, from 7.18% on August 20, 2022. According to Economists, the short-term rates would increase at a faster pace as the direct reflection of tighter liquidity and RBI's rate hike would be on these papers.
A rise in the repo rate will lead to a higher cost of funds. Banks will increase their repo-linked lending rates and the marginal cost of funds-based lending rate (MCLR), to which all loans are linked to. This rise will result in higher interest rates for consumers.
What can RBI do to deal with this situation?
Experts feel that RBI's actions will depend upon the nature of the liquidity situation. If the current liquidity deficit situation is temporary and is largely on account of advance tax flow, the RBI may not have to act, as the funds should eventually come back into the system. However, if it is long-term in nature then the RBI may have to take measures to improve the liquidity situation in the system.
 THE SCIENCE AND TECHNOLOGY
3. DEFENCE MINISTRY CONTRACT FOR BRAHMOS MISSILES
THE CONTEXT: The Indian Government has inked a Rs.1,700 crore contract with BrahMos Aerospace Pvt Ltd for procuring BrahMos missiles.
THE EXPLANATION:
The contract was signed by the Defence Ministry to purchase 35 combat and 3 practice BrahMos supersonic dual-role surface-to-surface cruise missiles.
The range of these missiles is 290 km and they are capable of both land attack and anti-ship strikes.
Their speed is 2.8 Mach, which is almost three times the speed of sound.
These missiles will be equipped in two P-15B class stealth guided missile destroyers of the Indian Navy.
This is expected to significantly boost India's naval capabilities.
They are brought under Buy-In category, which aims to boost indigenous production of critical weapon systems and ammunitions with active participation of indigenous defence industry.
What is BrahMos Missile?
BrahMos is the fastest supersonic missile and the fastest anti-ship cruise missile in the world. It was developed by BrahMos Aerospace – a joint venture between DRDO and Russia's NPO Mashinostroyeniya. The missile was named after Brahmaputra river in India and Moskva river in Russia.
In 2016, since India entered into the Missile Technology Control Regime (MTCR), India and Russia decided to develop a new generation of Brahmos missiles with a range of 400 km and then increase it to 600 km. The extended range version has been tested from warships, including from INS Visakhapatnam.
About Project 15B
Under the Project 15B, four stealth guided missile destroyers are being constructed at the cost of Rs. 29,643.74 crore. These destroyers are improved versions of Kolkata-class destroyers. These four vessels are named after major cities from all four corners of India. These are Visakhapatnam, Mormugao, Imphal and Surat.
While INS Visakhapatnam was commissioned in 2021, the rest were launched into waters. They were designed by the Indian Navy's Directorate of Naval Design and constructed by the Mazagon Dock Shipbuilders Limited in Mumbai. These vessels will be equipped with state-of-the-art weapons and sensors, including BrahMos and Barak-8 surface-to-air missiles.
CONNECT THE DOTS:
In a major boost to India's defence export plans, the Philippines has accepted Indian BrahMos Aerospace Pvt Ltd's proposal worth $374.9 million to supply a Shore-based Anti-Ship Missile System Acquisition Project for its navy.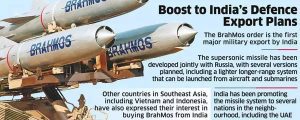 THE GOVERNMENT SCHEMES AND INITIATIVES IN NEWS
4. CONVERGENCE PORTAL BETWEEN AIF, PMFME SCHEME & PMKSY
THE CONTEXT: A convergence portal was jointly launched by the Union Ministry of Food Processing Industries (MoFPI) and Ministry of Agriculture and Farmers Welfare to increase the potential of India's agriculture and food processing sector.
THE EXPLANATION:
The convergence portal brings together Agriculture Infrastructure Fund (AIF) scheme, Pradhan Mantri Micro Food Enterprises Upgradation Scheme (PMFME) and Pradhan Mantri Kisan Sampada Yojana (PMKSY).
A standard operating procedure (SOP) was also issued to provide maximum benefits under these three schemes.
It aims to boost the concept of "Vocal for Local".
The convergence portal aims to ensure effective collaboration between all ministries and departments and improving access to these schemes and creating positive impact for farmers and small-scale entrepreneurs of the food processing industry.
The Agriculture Infrastructure Fund (AIF) is a financing facility launched in 2020 to improve post-harvest management infrastructure and community farm assets through benefits like 3 per cent interest subvention and credit guarantee support. Under this, Rs.1 lakh crore funds are provided from 2020-21 to 2025-26 and interest subvention and credit guarantee assistance will be provided until 2032-33.
The AIF has the facility of convergence with other schemes implemented by states and central government, enabling the optimization of multiple government schemes for a specific project.
The PMFME scheme was launched to provide financial, technical and commercial assistance for the upgradation of micro food processing enterprises across India. It will be implemented from 2020-21 to 2024-25. The total outlay for this scheme is Rs.10,000 crore. It uses the One District One Product (ODOP) approach to boost procurement, avail common services and marketing of products.
The PMKSY is a centrally sponsored scheme launched to boost infrastructure to improve supply chain management from farm to retail outlets. It aims to create mega food parks, improve cold chain and value addition infrastructure, food safety and quality assurance infrastructure, agro-processing clusters etc.
VALUE ADDITION:
"VOCAL FOR LOCAL":
It means that products are made competitive vis-a-vis global brands. But it does not mean that one must only buy products that have a logo 'made in India' on it
Government's announcement to make 'local companies global' and to increase demand for locally manufactured goods, India's digital industry is going to benefit from more Indian brands wanting to reach a wider audience.
Vocal for local also aims to achieve 'Aatmanirbhar Bharat' (self-reliant India).
Idea behind it
'Vocal for Local' is a concept which dates back to the era of the Swadeshi movement which stared in 1905 as part of the Indian independence movement
It was also Developed and promoted by Mahatma Gandhi.As an economic strategy, it helped develop Indian nationalism at the time. After 1947, in the 1950s and 60s India followed a conscious, socialist pattern of development to create and grow a base of domestic big industry.
However, this minimized competition and also encouraged protectionism.
The era of the 1990s saw a liberalization of the economies across the world, including in India.
This led to an infusion of FDI and big investments from MNCs and corporate houses and several joint ventures which made India very competitive.
The Indian Prime Minister latest slogan 'Be vocal about local' is built on both the reform agenda of Narasimha Rao and Vajpayee's infrastructure focus to address a serious weakness in the India growth story ― low share of manufacturing in the country's GDP vis-à-vis China.
 THE PRELIMS PERSPECTIVE
5. THE 2023 BREAKTHROUGH PRIZE WINNERS ANNOUNCED
THE CONTEXT: The 2023 Breakthrough Prizes conferred to individuals who made key contributions in the scientific growth.
THE EXPLANATION:
The Breakthrough Prizes are international awards conferred under three categories – mathematics, fundamental physics and life sciences.
These awards give recognition to scientific advances in these fields.
The awards were created in 2010 by a group of Silicon Valley entrepreneurs – Milner (venture capitalist), Mark Zuckerberg and his wife Priscilla Chan of Facebook and Sergey Brin of Google.
The Breakthrough Prizes were conferred for the first time in 2012 and the ceremony was hosted by Morgan Freeman.
Awardees receive 3 million USD each in prize money, which is higher than the 1 million USD received by Nobel laureates.
These prizes are conferred at a televised award ceremony that is organized to celebrate their achievements and inspire the next generation of scientists.
This year, three prizes were conferred in the life sciences category, one for mathematics and one for fundamental physics.
The total prize received by all these awardees are more than 15 million USD.
Who are the winners?
Life Sciences: Clifford Brangwynne and Anthony Hyman received the prize for discovering a new mechanism of cellular organization. Demis Hassabis and John Jumper were recognized for the development of AlphaFold, which predicts the structure of proteins. The prize was also given to Emmanuel Mignot and Masashi Yanagisawa for the discovery of causes of narcolepsy – the chronic sleep disorder characterized by overwhelming daytime drowsiness and sudden attacks of sleep.
Mathematics: Daniel Spielman of Yale University was given recognition for multiple discoveries in theoretical computer science and mathematics. He has been a professor of applied mathematics and computer science at Yale University since 2006.
Fundamental physics: The prize was shared by Charles Bennett, Gilles Brassard, David Deutsch and Peter Shor for their research in quantum information.
 6. WHAT IS CARBON DATING, AND CAN THE GYANVAPI 'SHIVLING' BE DATED BY THIS TECHNIQUE?
THE CONTEXT: Recently, a district court in Varanasi on allowed a petition seeking carbon dating of the structure inside the Gyanvapi mosque that the Hindu side has claimed is a 'Shivling'. The court has issued notices to other parties wanting to know whether they have any objection to carbon dating.
THE EXPLANATION:
What is carbon dating?
Carbon dating is a widely-used method applied to establish the age of organic material, things that were once living. Living things have carbon in them in various forms. The dating method makes use of the fact that a particular isotope of carbon called C-14, with an atomic mass of 14, is radioactive, and decays at a rate that is well known.
The most abundant isotope of carbon in the atmosphere is carbon-12 or a carbon atom whose atomic mass is 12. A very small amount of carbon-14 is also present. The ratio of carbon-12 to carbon-14 in the atmosphere is almost static, and is known.
Plants get their carbon through the process of photosynthesis, while animals get it mainly through food. Because plants and animals get their carbon from the atmosphere, they too acquire carbon-12 and carbon-14 isotopes in roughly the same proportion as is available in the atmosphere.
But when they die, the interactions with the atmosphere stops. There is no further intake of carbon (and no outgo either, because metabolism stops). Now, carbon-12 is stable and does not decay, while carbon-14 is radioactive. Carbon-14 reduces to one-half of itself in about 5,730 years. This is what is known as its 'half-life'.
What about non-living things?
Though extremely effective, carbon dating cannot be applied in all circumstances. Specifically, it cannot be used to determine the age of non-living things, like rocks, for example. Also, the age of things that are more than 40,000-50,000 years cannot be arrived at through carbon dating. This is because after eight to ten cycles of half-lives have been crossed, the amount of carbon-14 becomes almost negligible and undetectable.
There are other methods to calculate the age of inanimate things, but carbon dating can also be used in an indirect way in certain circumstances. For example, the age of the ice cores in glaciers and polar regions is determined using carbon dating by studying the carbon dioxide molecules trapped inside large ice sheets. The trapped molecules have no interaction with the outside atmosphere and are found in the same state as when they were trapped.
Is there anything that cannot be dated?
Though a variety of methods exist to know the age of a certain object, not everything can be dated. The accuracy of the different methods also varies.
Though the petitioners in the Gyanvapi case have asked for carbon dating, it is not clear as of now whether carbon dating can be applied in this case, or if some other methods would be suitable. Some methods, like looking for trapped organic material beneath it, might not be feasible for practical reasons because that would involve uprooting the structure or making some other disruptions that are not desirable.
Spread the Word