INDIAN POLITY, GOVERNANCE AND SOCIAL JUSTICE
SEVA SAMARPAN ABHIYAAN
THE CONTEXT: Union Minister Dr Jitendra Singh launches countrywide free Telemedicine facility to mark "Seva Samarpan Abhiyaan" on the occasion of the birthday of Prime Minister Shri Narendra Modi
ANALYSIS:
A countrywide free telemedicine facility will overcome the problems of Accessibility, Availability and Affordability.
All three obstacles like the quality of services, doctors and assistance, distance travelling, and cost of consultation/treatment are targeted and solved efficiently through this facility.
Telemedicine services like SAATH and E-Sanjeevani add a meta-layer to the primary health sector, thus helping upgrade India's entire health care system.
"JIGYASA", a student-scientist connect programme will be completed in schools in over 700 districts of India within one year.
SOURCE:  PIB
MAHUA NUTRA BEVERAGE
THE CONTEXT: TRIFED, FITT and Rusicaa Beverages have entered into a Memorandum of Understanding (MoU) to work together to enhance the income of tribals of Jharkhand through the commercial production and sale of Mahua Nutra beverage, a value-added product made out of Mahua flowers in the state.
ANALYSIS:
Mahua Nutra beverage is a value-added product made out of Mahua flowers in the state
TRIFED in association with Foundation for Innovation And Technology Transfer (FIIT) has developed this value-added product Mahua Nutra.
Now the technology is being licensed to M/sRrusicaa Beverages Private Ltd of Jharkhand for commercialization of this Mahua Nutra Beverage in Jharkhand.
The Mahua Nutra beverage in its improvised form is blended with pomegranate fruit juice.
This is the first of its kind of initiative in the State of Jharkhand and the country by TRIFED. This opens up opportunities for partner entrepreneurs in other States looking for starting up Nutra beverage units as well for benefit of tribal communities across the country.
In its improvised form, the Mahua Nutra beverage is blended with Pomegranate fruit juice, which enhances the nutritional value and masks the flavour of Mahua beverage by improving its aroma and texture.
SOURCE:   PIB
RAILWAYS PLANNING MAJOR RESTRUCTURING
THE CONTEXT: The Indian Railways is heading for a major restructuring plan that could lead to the closure of major establishments, the merger of decades-old organisations and private participation in the running of its schools and hospitals.
ANALYSIS:
The recommendations of the Principal Economic Adviser Sanjeev Sanyal for Rationalisation of Government Bodies and Proposal for the Ministry of Railways calls for winding up the Central Organisation for Railway Electrification (CORE), the Central Organisation for Modernisation Of Workshops (COFMOW), Centre for Railway Information Systems (CRIS) and Indian Railways Organisation for Alternative Fuel (already closed on September 7, 2021).
Winding up of the CRIS, an autonomous society that develops software capacity in the railways that includes passenger ticketing, freight invoicing, passenger train operations, management of train crew and management of fixed/rolling assets, and handing over all its work to the Indian Railway Catering and Tourism Corporation (IRCTC).
RailTel, one of the largest telecom infrastructure providers in the country that focuses on modernising operations and safety systems through optic fibre networks that exist along railway tracks, would be merged with the IRCTC.
Rail India Technical and Economic Service (RITES) that exports rolling stock to take over Braithwaite & Co Ltd., (BCL) which turned sick in 1992, the sources said.
The merger of the Rail Vikas Nigam Ltd. (RVNL), which implements projects relating to the creation and augmentation of the railway infrastructure, with the Indian Railway Construction Limited (IRCON), a specialised infrastructure construction organisation.
The merger of railway schools with Kendriya Vidyalayas or handing them over to the respective State governments.
Establish Central Public Sector Enterprises to bring eight production units under its fold.
The merger of the Central Training Institutes with the National Rail and Transportation Institute after upgrading the latter into a Central University and an Institute of National Importance.
SOURCE: TH             
SC COLLEGIUM ON MISSION MODE TO FILL VACANCIES
THE CONTEXT: The Supreme Court Collegium, led by Chief Justice of India (CJI) N.V. Ramana, is proceeding with staggering speed to fill the vacancies and strengthen the judiciary as seen in the latest slew of recommendations, which include eight new Chief Justices to High Courts, the transfer of five High Court Chief Justices and the shuffling of 28 High Court judges across the country.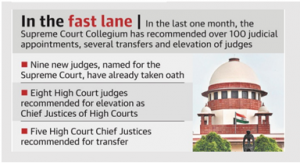 SOURCE: TH
ENVIRONMENT, GEOGRAPHY AND AGRICULTURE
GLOBAL METHANE PLEDGE
THE CONTEXT: U.S. President Joe Biden announced the Global Methane Pledge, a U.S. – EU led effort to cut methane emissions by a third by the end of this decade.
ABOUT METHANE GAS
It is an odourless, colourless, tasteless gas that is lighter than air.
Methane is the main constituent of natural gas.
When methane burns in the air it has a blue flame due to complete combustion.
Methane is the most important greenhouse gas after carbon dioxide.
It is a more potent GHG than CO2 (80 times more potent than carbon dioxide).
Its lifetime in the atmosphere is much shorter than CO2.
It helps in the formation of ground-level ozone (a secondary air pollutant).
Natural sources (40%)- wetlands, oceans, digestive processes of termites.
Manmade sources (60% of total)- Rice cultivation & livestock (40%), Fossil fuels (35%), Waste (20%), Wastewater treatment.
SOURCE:  TH
INDIAN ECONOMY
RECOMMENDATIONS OF 45TH GST COUNCIL MEETING
THE CONTEXT: The GST Council's 45th meeting was held in Lucknow under the chairmanship of the Union Finance & Corporate Affairs Minister Smt. Nirmala Sitharaman.
RECOMMENDATIONS
Life-saving drugs Zolgensma and Viltepso used in the treatment of Spinal-Muscular Atrophy exempted from GST when imported for personal use
Extension of existing concessional GST rates on certain COVID-19 treatment drugs up to 31stDecember 2021
GST rates on 7 other medicines recommended by the Department of Pharmaceuticals reduced from 12% to 5% till 31stDecember 2021
GST rate on Keytruda medicine for the treatment of cancer reduced from 12% to 5%
GST rates on Retro fitment kits for vehicles used by persons with special abilities reduced to 5%
GST rates on Fortified Rice kernels for schemes like ICDS reduced from 18% to 5%
Council also recommends major changes in GST rates and scope of exemption on Services
Recommends several clarifications in relation to GST rates on Goods and Services
Council recommends several measures relating to GST law and procedure
Council decides to set up 2 GoMs to examine the issue of correction of inverted duty structure for major sectors and for using technology to further improve compliance, including monitoring
SOURCE: PIB
SCIENCE AND TECHNOLOGY
PLANETARIUM INNOVATION CHALLENGE
THE CONTEXT: MyGov India, under the Ministry of Electronics and Information Technology (MeitY), has launched the Planetarium Innovation Challenge for Indian start-ups and tech entrepreneurs.
ANALYSIS:
The challenge aims to bring together the tech firms and Startups (based out of India) with the potential to build an indigenous planetariums system software using the latest technologies including Augmented Reality (A.R.), Virtual Reality (V.R.) and Merged Reality (M.R.).
Inspired by the Chandrayaan launches, the Indian Space Research Organization conducted the ISRO Quiz competition 2019 in collaboration with MyGov where several schools, parents and enthusiastic mentors made it memorable through their active participation.
SOURCE: PIB
INTERNATIONAL RELATIONS
JAISHANKAR CALLS FOR EARLY RESOLUTION OF LAC ISSUES
THE CONTEXT: According to the MEA, Mr Jaishankar once again stressed that peace and tranquillity along the LAC, which depended on resolving all the remaining issues of the 17-month-long stand-off.
ANALYSIS:
China must not view India through the lens of its ties with other countries, External Affairs Minister S. Jaishankar told his Chinese counterpart, Wang Yi, as they met on the sidelines of the Shanghai Cooperation Organisation (SCO) summit in Dushanbe, capital of Tajikistan.
They agreed to more talks by military and diplomatic officials to resolve the remaining issues on disengagement.
Jaishankar said that "Asian solidarity" depended on the example set by India-China relations.
SOURCE:  TH
MODI: POLITICAL CHANGE IN AFGHANISTAN NOT INCLUSIVE
THE CONTEXT: "The first issue is that the change of authority in Afghanistan was not inclusive and this happened without negotiation. This raises questions on the prospects of recognition of the new system. Representation of all sections of Afghans, including women and the minorities, is important," Mr Modi said in a speech at the Afghanistan-themed outreach summit between the Shanghai Cooperation Organisation (SCO) and the Collective Security Treaty Organisation (CSTO).
ANALYSIS:
He expressed India's support for the "central role" of the United Nations in the global deliberation regarding the current system in Afghanistan.
The Taliban has declared an "interim government" in Kabul but India has not yet recognised that set-up.
He highlighted that a "large number of advanced weapons" were left behind by western powers in Afghanistan, and cautioned that the country could emerge as the source of uncontrolled flow of drugs, illegal weapons and human trafficking.
To deal with the fallout of the volatile situation in Afghanistan, he urged the SCO member countries to frame a "code of conduct" to stop terror financing and cross-border terrorism.
The Prime Minister stressed the importance of moderate Islam in Central Asia and urged the member- countries to counter religious extremism and radicalisation.
ABOUT SCO:
Prior to the creation of SCO in 2001, Kazakhstan, China, Kyrgyzstan, Russia and Tajikistan were members of the Shanghai Five.
Shanghai Five (1996) emerged from a series of border demarcation and demilitarization talks that the four former Soviet republics held with China to ensure stability along the borders.
Following the accession of Uzbekistan to the organisation in 2001, the Shanghai Five was renamed the SCO.
The eurasian political, economic and military organization aims to maintain peace, security and stability in the region.
India and Pakistan became members in 2017.
8 members: Kazakhstan, China, Kyrgyzstan, Russia, Tajikistan, Uzbekistan, India, Pakistan
Secretariat: Beijing
Official languages: Russian and Chinese.
ABOUT CSTO
The Collective Security Treaty Organization (CSTO) is a Russia-led military alliance of seven former Soviet states that was created in 2002.
The CSTO's purpose is to ensure the collective defence of any member that faces external aggression.
It has been described by political scientists as the Eurasian counterpart of NATO, which has 29 member states, while the CSTO has just six.
Current CSTO members are Armenia, Belarus, Kazakhstan, Kyrgyzstan, Russian Federation and Tajikistan.
Afghanistan and Serbia hold observer status in the CSTO. Uzbekistan again became a CSTO member in 2006 but then withdrew its membership in 2012.
The organization uses a rotating presidency system in which the state leading the CSTO changes every year.
Collective Security Council (CSC) is the highest body of CSTO and comprises the heads of member states.
SOURCE: TH
PRELIMS PRACTICE QUESTIONS:
Q1. Consider the following statements about methane gas:
It is a more potent greenhouse gas than carbon dioxide.
It has more lifespan in the atmosphere as compared to carbon dioxide.
It is the main constituent of natural gas.
Which of the given statements are correct?
a) 1 and 2 only
b) 2 and 3 only
c) 1 and 3 only
d) 1, 2 and 3
ANSWER FOR SEPTEMBER 15, 2021 PRELIMS PRACTICE QUESTIONS (REFER TO RELEVANT ARTICLE)
Q1. Answer: c)
Explanation:
Ministry of Labour & Employment has developed an e-SHRAM portal for creating a National Database of Unorganized Workers (NDUW), which will be seeded with Aadhaar.
Who can register in the e-Shram (NDUW) Portal?
Any individual satisfying the following conditions can register on the portal:
An unorganised worker (UW).
Age should be between 16-59 years.
Not a member of EPFO/ESIC or NPS (Govt. funded)
Spread the Word