INDIAN POLITY, GOVERNANCE AND SOCIAL JUSTICE
1. SC: RAILWAYS TO COMPENSATE FOR LATE-RUNNING TRAINS
THE CONTEXT: The Supreme Court has held that the Railways will have to pay passengers compensation for the late running of trains if unable to establish or prove that the delay was due to reasons beyond its control.
ANALYSIS:
These are the days of competition and accountability. If the public transportation has to survive and compete with private players, they have to improve the system and their working culture.
Unless and until the evidence is laid explaining the delay and it is established and proved that delay occurred beyond their control and/or even there was some justification for delay, the railways are liable to pay the compensation for delay and late arrival of trains.
SOURCE: The Hindu
2. RIGHT TO SIT
THE CONTEXT: The Tamil Nadu government formally presented a bill in the state assembly Monday requiring shops, storefronts, and commercial establishments to provide employees with seating facilities.
ANALYSIS:
The Tamil Nadu Shops and Establishments (Amendment) Act, 2021, is inspired by a Kerala bill that was first tabled in July 2018 before it became a law in January 2019, after women textile workers in the state protested against harsh conditions in 2016.
In the Kerala Shops and Commercial Establishments (Amendment) Ordinance 2018, seating facilities were mentioned by way of adding a new section in the Kerala Shops and Commercial Establishments Act, 1960.
The problems faced by members of Tamil Nadu's workforce in industries like jewellery and textiles have been widely reported on in recent years. Workers were being forced to stand throughout their daily 10-12 hour shifts and not being allowed timely toilet breaks.
SOURCE: THE PRINT
ENVIRONMENT, GEOGRAPHY AND AGRICULTURE
3. GIVE RIVERS THEIR RIGHTS, ACTIVISTS TELL IUCN
THE CONTEXT: Activists highlighted the plight of rivers as well as the support building up for according rights to them at the ongoing International Union for the Conservation of Nature (IUCN) World Conservation Congress September 8, 2021 in Marseille, France.
ANALYSIS:
Some 1,700 individuals and 211 organisations from over 40 countries have pledged support to the declaration.
Several campaigns calling for rights to be accorded to rivers have also incorporated the declaration. These include campaigns for the Lempa river in El Salvador, the Tavignanu river in France, all rivers in Mexico's Oaxaca state, the Ethiope river in Nigeria, the Indus river in Pakistan and the Frome river in the United Kingdom.
Several amici curiae briefs in defence of the 'rights of rivers' also reference the rights recognised in the Universal Declaration of the Rights of Rivers.
The rights to recognise river as living entities rather than mere human property started in 2008. That year, Ecuador became the first country to constitutionally recognize the Rights of Nature.
In 2017, a treaty agreement between the Whanganui Iwi (a Māori tribe) and the New Zealand government recognised the Whanganui river as a legal person
Also in 2017, a Constitutional Court decision in Colombia recognised the rights of the Atrato River and a court in Uttarakhand recognised the Ganga and Yamuna rivers as legal persons with rights. This was later stayed.
According to one statistic, only 37 per cent of rivers longer than 1,000 km still flow freely due to dams being built on them.
SOURCE : Down to Earth
4. OVER 90% DISTRICTS IN INDIA NOW FACE ARID CONDITIONS
THE CONTEXT:  According to data from the India Meteorological Department (IMD), as many as 673 out of India's 733 districts face arid conditions now.
ANALYSIS:
Overall, despite 'normal' rains, almost 90 per cent of the country remains drier than usual even as the kharif (summer) crop season is underway.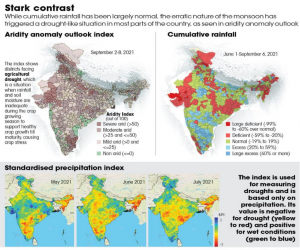 SOURCE : Down to Earth
INDIAN ECONOMY
5. PLI SCHEME FOR TEXTILES
THE CONTEXT: Government has approved the PLI Scheme for Textiles for MMF Apparel, MMF Fabrics and 10 segments/ products of Technical Textiles with a budgetary outlay of Rs. 10,683 crores.
ANALYSIS:
PLI for Textiles along with RoSCTL, RoDTEP and other measures of Government in sector e.g. providing raw material at competitive prices, skill development etc will herald a new age in textiles manufacturing.
PLI scheme for Textiles is part of the overall announcement of PLI Schemes for 13 sectors made earlier during the Union Budget 2021-22, with an outlay of Rs. 1.97 lakh crore.
With the announcement of PLI Schemes for 13 sectors, minimum production in India is expected to be around Rs. 37.5 lakh crore over 5 years and minimum expected employment over 5 years is nearly 1 crore.
PLI scheme for Textiles will promote production of high value MMF Fabric, Garments and Technical Textiles in country. The incentive structure has been so formulated that industry will be encouraged to invest in fresh capacities in these segments.
This will give a major push to growing high value MMF segment which will complement the efforts of cotton and other natural fibre-based textiles industry in generating new opportunities for employment and trade, resultantly helping India regain its historical dominant status in global textiles trade.
The Technical Textiles segment is a new age textile, whose application in several sectors of economy, including infrastructure, water, health and hygiene, defense, security, automobiles, aviation, etc. will improve the efficiencies in those sectors of economy.
Government has also launched a National Technical Textiles Mission in the past for promoting R&D efforts in that sector. PLI will help further, in attracting investment in this segment.
SOURCE : PIB
6. CENTRE HIKES MINIMUM SUPPORT PRICE FOR RABI CROPS
THE CONTEXT: The government increased the minimum support price (MSP) for wheat for the upcoming rabi season to ₹2,015 per quintal, a 2% hike from the ₹1,975 per quintal rate of last year.
ANALYSIS:
Oilseeds and pulses such as mustard, safflower and masoor dal saw higher MSP hikes of up to 8% in a bid to encourage crop diversification.
ABOUT MSP
MSP is the rate at which the government purchases crops from farmers, and is based on a calculation of at least one-and-a-half times the cost of production incurred by the farmers.
Government of India sets the MSP twice a year for 23 crops (13 Kharif, 6 Rabi and 4 commercial crops).
The Commission for Agricultural Costs and Prices (CACP) decides the minimum support price and recommend it to government.
Department of Agriculture and Co-operation, declares MSP before sowing season.
SOURCE :The Hindu
INTERNAL SECURITY
7. PROCUREMENT OF 56 C-295MW TRANSPORT AIRCRAFT
THE CONTEXT: Cabinet Committee on Security approved the procurement of fifty-six C-295MW transport aircraft from M/s Airbus Defence and Space S.A., Spain for the Indian Air Force.
ANALYSIS:
16 aircraft to be delivered in flyaway condition from Spain; 40 to be manufactured in India.
Unique initiative to strengthen indigenous capabilities & boost 'Make in India'.
All aircraft to be installed with indigenous Electronic Warfare Suite.
To replace the ageing Avro aircraft of IAF.
Transport aircraft of 5-10 Tonne capacity with contemporary technology.
SOURCE: PIB
INTERNATIONAL RELATIONS
8. INDIA, RUSSIA REVIEW AFGHANISTAN SITUATION
THE CONTEXT:  India and Russia conducted their first "detailed and extensive review" of the situation in Afghanistan, agreeing to coordinate their positions at the United Nations, as a delegation led by Russia's Security Council Secretary General Nikolai Patrushev met National Security Adviser Ajit Doval in Delhi.
ANALYSIS:
The two sides stressed areas of "convergence", including the need to hold the Taliban to their promises thus far, the threat of terrorism from international terror groups inside Afghanistan, flow of weapons, radicalization and increase in opium production and drug trafficking under the new regime.
They also touched upon humanitarian and migration problems in [Afghanistan], as well as prospects for the Russian-Indian joint efforts aimed at creating conditions for launching a peaceful settlement process on the basis of an intra-Afghan dialogue.
SOURCE: The Hindu
9. INDIA, AUSTRALIA TO HOLD 2+2 MEET
THE CONTEXT:  India and Australia will hold the inaugural 2+2 Ministerial meeting in New delhi during the upcoming visit of Foreign Minister Marise Payne and Minister of Defence Peter Dutton.
ANALYSIS:
These inaugural 2+2 discussions are a cornerstone of the Australia-India Comprehensive Strategic Partnership, which is founded on a shared commitment to a secure, stable and prosperous Indo-Pacific region.
Talks between foreign ministers will cover economic issues, cyber security, climate change, critical technology and supply chains.
Dutton will hold defence cooperation related meeting with his Indian counterpart Rajnath Singh.
Discussions also likely to include a bilateral free trade agreement. India and Australia have been in negotiation over a possible free trade deal, which has so far not yielded a positive result.
SOURCE: The Hindu
Q1. Consider the following statements about Minimum Support Price:
It is the minimum price at which government purchases crops from farmers.
It is decided by the government on the recommendations of Indian Council of Agriculture Research (ICAR).
Which of the statements given above is/are correct?
1 only
2 only
Both 1 and 2
Neither 1 nor 2
ANSWER FOR SEPTEMBER 08, 2021 PRELIMS PRACTICE QUESTIONS (REFER RELEVANT ARTICLE)
ANSWER: A)
Explanation:
Vidyanjali 2.0 is an amalgamation of the words Vidya meaning "correct knowledge" or "clarity" and Anjali meaning "an offering with both hands" in Sanskrit language.
Vidyanjali 2.0 is an initiative taken by the Ministry of Education, Government of India with the aim to strengthen Schools through community and private sector involvement in schools across the country.
This initiative would connect schools with varied volunteers from the Indian Diaspora namely, young professionals, retired teachers, retired Government officials, retired professionals and many others.
Vidyanjali has two verticals: "Participate in school Service/Activity" and "Contribution in Assets/ Material/ Equipment" in which volunteer can support and strengthen the government and government aided schools.
Spread the Word