INDIAN POLITY, GOVERNANCE AND SOCIAL JUSTICE
1. 7 YEARS OF PMJDY
THE CONTEXT: Pradhan Mantri Jan-Dhan Yojana (PMJDY) – National Mission for Financial Inclusion, completes seven years of successful implementation.
BACKGROUND:
PMJDY was announced by Prime Minister in his Independence Day address on 15th August 2014. While launching the programme on 28th August, the Prime Minister had described the occasion as a festival to celebrate the liberation of the poor from a vicious cycle.
PMJDY is National Mission for Financial Inclusion to ensure access to financial services, namely, Banking/ Savings & Deposit Accounts, Remittance, Credit, Insurance, Pension in an affordable manner.
OBJECTIVES
Ensure access of financial products & services at an affordable cost
Use of technology to lower cost & widen reach
BASIC TENETS OF THE SCHEME
Banking the unbanked – Opening of basic savings bank deposit (BSBD) account with minimal paperwork, relaxed KYC, e-KYC, account opening in camp mode, zero balance & zero charges
Securing the unsecured – Issuance of Indigenous Debit cards for cash withdrawals & payments at merchant locations, with free accident insurance coverage of Rs. 2 lakh
Funding the unfunded – Other financial products like micro-insurance, overdraft for consumption, micro-pension & micro-credit
INITIAL FEATURES
Universal access to banking services  – Branch and BC
Basic savings bank accounts with overdraft facility of Rs. 10,000/- to every eligible adult
Financial Literacy Program– Promoting savings, use of ATMs, getting ready for credit, availing insurance and pensions, using basic mobile phones for banking
Creation of Credit Guarantee Fund – To provide banks some guarantee against defaults
Insurance – Accident cover up to Rs. 1,00,000 and life cover of   Rs. 30,000 on account opened between 15 Aug 2014 to 31 January 2015
Pension scheme for Unorganized sector
APPROACH ADOPTED IN PMJDY
Accounts opened are online accounts in core banking system of banks, in place of earlier method of offline accounts opening with technology lock-in with the vendor
Inter-operability through RuPay debit card or Aadhaar enabled Payment System (AePS)
Fixed-point Business Correspondents
Simplified KYC / e-KYC in place of cumbersome KYC formalities
EXTENSION OF PMJDY WITH NEW FEATURES
Focus shift from 'Every Household' to Every Unbanked Adult'
RuPay Card Insurance – Free accidental insurance cover on RuPay cards increased from Rs. 1 lakh to Rs. 2 lakh for PMJDY accounts opened after 28.8.2018.
Enhancement in overdraft facilities –
OD limit doubled from Rs 5,000/- to Rs 10,000/-; OD up to Rs 2,000/- (without conditions).
Increase in upper age limit for OD from 60 to 65 years
ACHIEVEMENTS UNDER PMJDY- AS ON 18TH AUGUST'21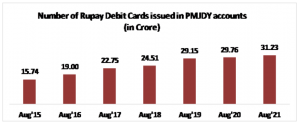 JAN DHAN DARSHAK APP
A mobile application, was launched to provide a citizen centric platform for locating banking touch points such as bank branches, ATMs, Bank Mitras, Post Offices, etc. in the country. Over 8 lakh banking touchpoints have been mapped on the GIS App.
The facilities under Jan Dhan Darshak App could be availed as per the need and convenience of common people. The web version of this application could be accessed at the link http://findmybank.gov.in.
This app is also being used for identifying villages which are not served by banking touchpoints within 5 km. these identified villages are then allocated to various banks by concerned SLBCs for opening of banking outlets. The efforts have resulted in significant decrease in number of such villages.
Reference: PIB
2. MAJOR PLANS FOR BOOSTING AYUSH INITIATIVES IN NORTHEAST
THE CONTEXT: In a major boost to the initiatives to promote traditional medicinal practices in the North East, the Union Minister of Ayush announced a slew of major initiatives planned to boost the traditional medicinal practices in the north-eastern states of India.
ANALYSIS:
As many as 1000 new Health & Wellness Centres (HWC), as part of the National Ayush Mission (NAM) Scheme, will be opened in the NE states for growth and development of Ayush systems. The aim of these centres is to provide a holistic wellness model based on principles of Ayush systems of medicine.
Financial provision of Rs 70 crore, under NAM support, will also be provided for establishment of a new Ayurvedic College at Dudhnoi in Goalpara, announced the union minister while addressing the conference.
The Ministry of Ayush has decided to upgrade the Government Ayurvedic College in Guwahati and develop it as a Centre of Excellence. A sum of Rs 10 crore as financial grant is to be provided in this regard. All states of Northeast were requested to put up specific proposal to the ministry for open new Ayush educational institutions.
A facilitation Centre for Semi Processing of raw material is going to be opened up in NE. Along with this, it is also envisaged to set up Regional Raw Drug Repository (RRDR) in NE states in collaboration with National Institute of Bio-Resources and Sustainable Development in Imphal, Manipur under Department of Bio-Technology.
Ministry is implementing Central Sector Scheme on Conservation, Development and Sustainable Management of Medicinal Plants. This Scheme has provision to support joint forest management committees (JFMCs) for value addition, drying, warehousing and augmenting marketing infrastructure.
AHMIS is a comprehensive IT platform to effectively manage all functions of health care delivery systems and patient care in Ayush facilities. It is developed with an aim to improve patient care, work efficiency, effective management and scientific documentation and research of Ayush.
The strategic policy & facilitation bureau at Invest India, under the aegis of Ministry of Ayush, will coordinate with and encourage potential investors to  in Ayush and wellness centres in NE states including manufacturing and services.
Medical value travel promotion in NE states will be a priority area for the team.
Reference: PIB
3. ONORC NOW SUCCESSFULLY OPERATIONAL IN 34 STATES
THE CONTEXT: From its launch on March 12th 2021, 'Mera Ration' app has recorded over 15 lakh downloads on Google Play Store. The app was launched under One Nation One Ration Card (ONORC) plan to benefit National Food Security Act (NFSA) beneficiaries, particularly migrant beneficiaries to avail maximum benefit of ration cards portability.
ANALYSIS:
The App has been developed by the Department in technical association with Central NIC Unit – providing a host of useful TPDS/ONORC information and features.
To facilitate better access and maximum benefit, the app is available in 12 languages viz. English, Hindi, Oriya, Punjabi, Tamil, Telugu, Malayalam, Kannada, Urdu, Gujarati, Marathi and Bangla.
Under One Nation One Ration Card (ONORC) which was running successfully in 32 states/UTs till December 2020, has now became operational in two more states/UTs-Delhi and West Bengal till August 2021 thereby, expanding the scheme to 34 states/UTs covering nearly 75 Crore beneficiaries (almost 94.3% NFSA population).
In addition, presently a monthly average of about 2.2 Crore portability transactions (including inter-/intra-State and PM-GKAY food grain transactions) are being recorded consistently in the States/UTs under delivering the subsidised NFSA food grains with anywhere flexibility to intended beneficiaries, mostly migrants.
The One Nation One Ration Card (ONORC) is an ambitious plan and endeavour of the Department to ensure seamless delivery of subsidised food-security entitlements to all beneficiaries covered under the National Food Security Act, 2013 (NFSA), irrespective of their physical location anywhere in the country.
The objective of this programme is to empower all NFSA beneficiaries to be self-reliant for their food security anywhere in the country, through portability of their same existing ration cards to seamlessly lift their subsidised food grains (in part or full) from any ePoS (electronic Point of Sale device) enabled Fair Price Shop in the country with biometric/Aadhaar authentication at the time of lifting the food grains through portability. Further, their family members back home can also lift balance/their requirement of food grains on the same ration card.
Reference: PIB
4. BHARAT SERIES (BH-SERIES)
THE CONTEXT:   Government introduces a new registration mark for new vehicles "Bharat series (BH-series)" to facilitate seamless transfer of vehicles.
ANALYSIS:
In order to facilitate seamless transfer of vehicles, the Ministry of Road Transport & Highways has introduced a new registration mark for new vehicles i.e. "Bharat series (BH-series)". A vehicle bearing this registration mark shall not require assignment of a new registration mark when the owner of the vehicle shifts from one State to another.
Format of Bharat series (BH-series) Registration Mark –
Registration Mark Format: –
   YY BH #### XX
   YY – Year of first registration
   BH- Code for Bharat Series
   ####- 0000 to 9999 (randomized)
XX- Alphabets (AA to ZZ)
This vehicle registration facility under "Bharat series (BH-series)" will be available on voluntary basis to Defense personnel, employees of Central Government/ State Government/ Central/ State Public Sector Undertakings and private sector companies/organizations, which have their offices in four or more States/Union territories.
The motor vehicle tax will be levied for two years or in multiple of two. This scheme will facilitate free movement of personal vehicles across States/UTs of India upon relocation to a new State/UT.
After completion of the fourteenth year, the motor vehicle tax shall be levied annually which shall be half of the amount which was charged earlier for that vehicle.
Reference: PIB
5. POSHAN ABHIYAAN
THE CONTEXT: 'Thematic' POSHAN Maah to be celebrated across the nation throughout the month of September as part of azadi ka amrit mahotsav.
ANALYSIS:
POSHAN Abhiyaan is Government of India's flagship programme to improve nutritional outcomes for children, adolescent Girls, pregnant women and lactating mothers.
Launched by the Prime Minister Shri Narendra Modi on the occasion of  International Women's Day on 8 March, 2018 from Jhunjhunu in Rajasthan, the POSHAN (Prime Minister's Overarching Scheme for Holistic Nutrition) Abhiyaan directs the attention of the country towards the problem of malnutrition and address it in a mission-mode.
Focusing on the aims of POSHAN Abhiyaan, Mission Poshan 2.0 (Saksham Anganwadi and Poshan 2.0) has been announced in the Budget 2021-2022 as an integrated nutrition support programme, to strengthen nutritional content, delivery, outreach and outcomes with focus on developing practices that nurture health, wellness and immunity to disease and malnutrition.
POSHAN Abhiyaan is a Jan Andolan or "People's Movement" by incorporating inclusive participation of public representatives of local bodies, government departments of the States/UTs, social organizations and the public and private sector at large. In order to ensure community mobilization and bolster people's participation, every year, the month of September is celebrated as POSHAN Maah across the country.
During the PoshanMaah, activities related to nutrition awareness will be carried out across all the States/UTs right upto the grass root levels.
The implementing departments /agencies like women and child development department through Anganwadi workers, health and family welfare department through ASHA, ANM, primary health centres, community health centres, school education and literacy department through schools, Panchayati Raj departments through panchayats, and rural development trough self-help groups will carry out the activities and spread the message of holistic nutrition throughout the month to ensure a healthier future for women and children.
The POSHAN Maah intends to achieve the holistic goals of PoshanAbhiyaan with swiftness in a harmonized manner
Reference: PIB
INDIAN ECONOMY
6. NITI AAYOG BATS FOR TAX BREAKS TO ACHIEVE MONETISATION GOAL
THE CONTEXT:  The NITI Aayog has recommended that to make the National Monetisation Pipeline (NMP) a success, the government should give Income tax breaks to attract retail investors into instruments like Infrastructure Investment Trusts (InvITs).
ANALYSIS:
The Centre's think tank driving the NMP, estimated to raise almost ₹6 lakh crore for the exchequer over four years, has also called for bringing such Trusts under the ambit of the Insolvency and Bankruptcy Code (IBC) to provide greater comfort to investors.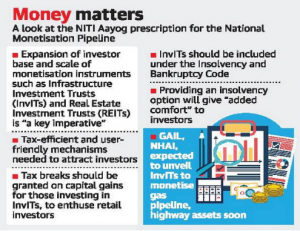 Reference: The Hindu
INDIAN SECURITY
7. INDIAN COAST GUARD SHIP 'VIGRAHA'
THE CONTEXT: Raksha Mantri dedicated to the Nation, indigenously built Coast Guard Ship 'Vigraha' in Chennai on August 28, 2021. The ship is a perfect example of a successful partnership between public and private sectors to realise the dream of self-reliant India.
ANALYSIS:
ICGS Vigraha will be based at Visakhapatnam and operate on India's Eastern Seaboard under the Operational and Administrative Control of the Commander, Coast Guard Region (East).
The 98 meters OPV has been designed and built indigenously by M/s Larsen & Toubro Ship Building Ltd., and is fitted with advanced technology Radars, Navigation and Communication Equipment, Sensor and Machinery capable of operating in tropical sea conditions. The vessel is armed with a 40/60 Bofors gun and fitted with two 12.7 mm Stabilised Remote Control Gun (SRCG) with Fire Control System.
The ship is also equipped with Integrated Bridge System (IBS), Integrated Platform Management System (IPMS), and Automated Power Management System (APMS) and High-Power External Firefighting (EFF) system. The ship is designed to carry one Twin Engine Helicopter and four high speed boats for Boarding Operation, Search and Rescue, Law Enforcement and Maritime Patrol.
The ship is also capable of carrying limited pollution response equipment to contain oil spill at sea.  The ship displaces approx. 2200 tons (GRT) and is propelled by two 9100 KW diesel engines to attain a maximum speed of 26 knots with endurance of 5000 nm at economical speed.
The ship, on joining the Coast Guard Eastern fleet, will be deployed extensively for EEZ surveillance and other duties as enshrined in the Coast Guard Charter, to safeguard the maritime interests of India. The Indian Coast Guard with this ship joining the fleet will have 157 Ships and 66 Aircraft in its inventory.
Reference: PIB
INTERNATIONAL RELATIONS
8. INDIA, RUSSIA TO EXPAND COOPERATION IN CENTRAL ASIA
THE CONTEXT: Interview with Indian Envoy in Russia D.B. Venkatesh Varma.
ANALYSIS:
India and Russia are expecting to conclude the bilateral logistics agreement, Reciprocal Exchange of Logistics Agreement (RELOS), and a Navy-to-Navy cooperation memorandum of understanding (MoU) when Russian Defence Minister Gen. Sergei Shoigu visits India later this year.
Both countries are also scheduled to hold the maiden 2+2 ministerial dialogue during visit of Gen. Shoigu.
There are specific defence and nation- al security considerations that led India to conclude the contract for the supply of S-400 systems. This contract will be implemented.
Both sides were also looking at how they could cooperate in using India as a production base for exporting to third countries of Russian-origin equipment and services and would add to the Make in India programme.
Situation in Afghanistan impact both India and Russia and normal inter-State relations especially with respect to Central Asia, with additional threats emanating from drug trafficking, organized crime and the flow of refugees.
Reference: The Hindu
9. CHINA TO REQUIRE FOREIGN VESSELS TO REPORT IN 'TERRITORIAL WATERS'
THE CONTEXT:  Chinese authorities said they will require a range of vessels "to report their information" when passing through what China sees as its "territorial waters", starting from September 1.
ANALYSIS:
While it remains unclear how, whether, and where China plans to enforce this new regulation.
Over $5 trillion trade passes through the South China Sea, and 55% of India's trade pass through its waters and the Malacca Straits.
The "nine dash line" is deemed by most countries as being inconsistent with the United Nations Convention on the Law of the Sea (UNCLOS), which only gives states the right to establish a territorial sea up to 12 nautical miles.
The requirements of the latest notice will also be seen as being inconsistent with UNCLOS, which states that ships of all countries enjoy the right of innocent passage through the territorial sea.
Reference: The Hindu
Q1. Which of the following are possible negative effects of Oil Pal cultivation in North-East Indian states?
Groundwater depletion
Reduction in forest area
Reduced biodiversity Loss of community ownership of tribal people
 Select the correct answer using code given below:
1 and 2 only
1, 2 and 3 only
1, 3 and 4 only
All of them
ANSWER FOR AUGUST 28, 2021 PRELIMS PRACTICE QUESTIONS (REFER RELEVANT ARTICLE)
Q.1 Answer: A)
Explanation:
Statement 1 is correct: ESZs are transition areas around the protected areas of National parks and wildlife sanctuaries.
Statement 2 is incorrect: Environment (Protection) Act 1986 does not mention about ESZs.
Statement 3 is incorrect: They can be up to 10 Kms around the protected areas.
Spread the Word